OK starting a thread to hold all the arguments for and against deflation occuring in the USA, which would be the Fed worst nightmare.
.................................................. .................................................. .....................
The October
Personal Income and Outlays
report for October was published today by the Bureau of Economic Analysis.
The latest
Headline PCE
price index year-over-year (YoY) rate of 0.74% is a decline from last month's adjusted 0.95% (previously 0.92%).
The
Core PCE
index of 1.11% is fractionally lower than last month's adjusted 1.22% (previously 1.19%).
Note:
The Fed is on record as using PCE as its primary inflation gauge.
The general disinflationary trend in core PCE (the blue line in the charts below) must be quite troubling to the Fed.
After 5 years of ZIRP and waves of QE, this closely watched indicator has consistently moved in the wrong direction since early 2012 and, after flatling since May, it has now slipped lower.
[On a personal note I did my retirement planning in 2004 based on 5 inflation senerios; 2%, 4%, 6%, 8% and 10%. LOL so far its been between 1% and 2% which is great for a retiree, since my defined benefit pension is a fixed amount for life.]
In the graph below the target range is highlighted from 2 to 2.5 percent range. Two percent had generally been understood to be the Fed's target for core inflation. However, the December 12 FOMC meeting raised the inflation ceiling to 2.5% for the next year or two while their accommodative measures (low FFR and quantitative easing) are in place.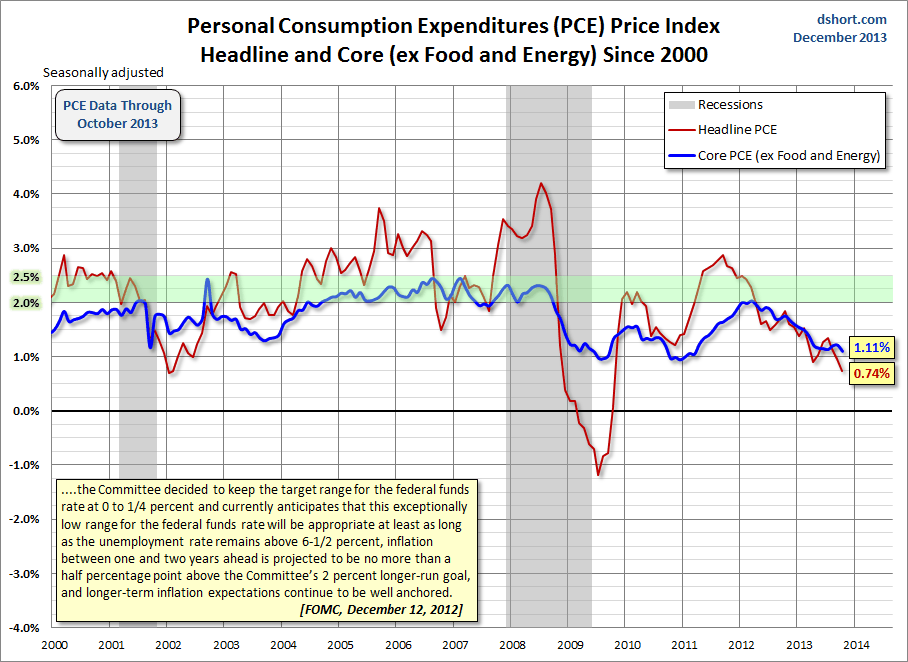 A look at the longer term.
Personal Consumption Expenditures Price Index